Singapore Residential Feng Shui Consultation
When should I engage your service?
Eager to start planning for my new home.
Interior Designer (ID) recommends that I consult my Feng Shui Master first.
Sold existing home and need to move-in urgently.
In six month's or less, I will be collecting the keys.
If you answer YES to one or more of the above: It's time for you start your Feng Shui review today.
If not in a hurry, then perhaps wait until you collect your keys.
Overview of the Comprehensive Audit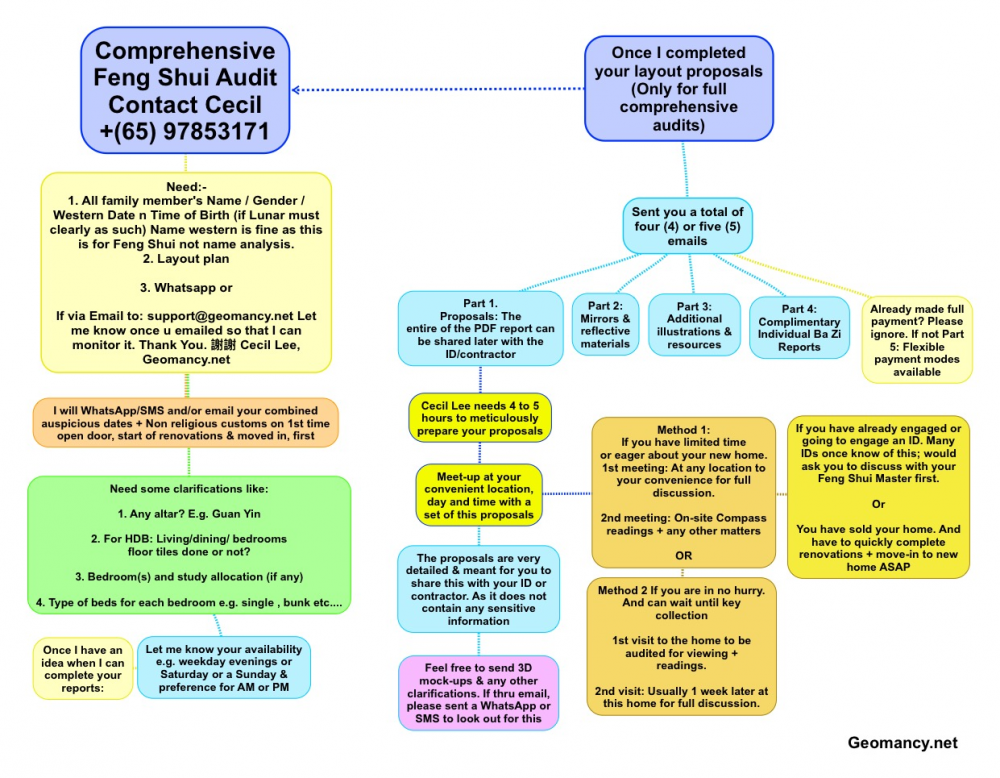 What information is required?
1. All family member's Name / Gender / Western Date n Time of Birth (if Lunar must clearly as such) Name western is fine as this is for Feng Shui not name analysis.
2. Layout plan.
3. E-mail address.
4. Whatsapp or
4.1. If via Email to: This email address is being protected from spambots. You need JavaScript enabled to view it.
Let me know (HP: 9785-3171) once u emailed so that I can monitor it.

And Time of birth can be given between:
1 to 2.59; am or pm
3 to 4.59; am or pm
5 to 6.59; am or pm
7 to 8.59; am or pm
9 to 10.59 am or pm
For example:-
Cannot be between 2pm to 5pm thus should be either:-
[ ] 1pm to 2.59pm or
[ ] 3pm to 4.59pm
Question: I have just sent you my details. What next?
1. Receive a WhatsApp or E-mail Combined Auspicious Dates.
2. Fix a Date/Time/Location for meet-up (if keys collected at new home).
3. Expect to receive soft-copies of your reports (around 4 or 5) e-mails a few days before the meeting.
Who will conduct the audit?
Master Cecil Lee will personally visit the premises and the entire consultation and assessment will be done by him.
Will you give me a detailed Feng Shui Proposal?
1. Your report is in colour, personalised and very comprehensive that takes five hours of preparation work.
Sample: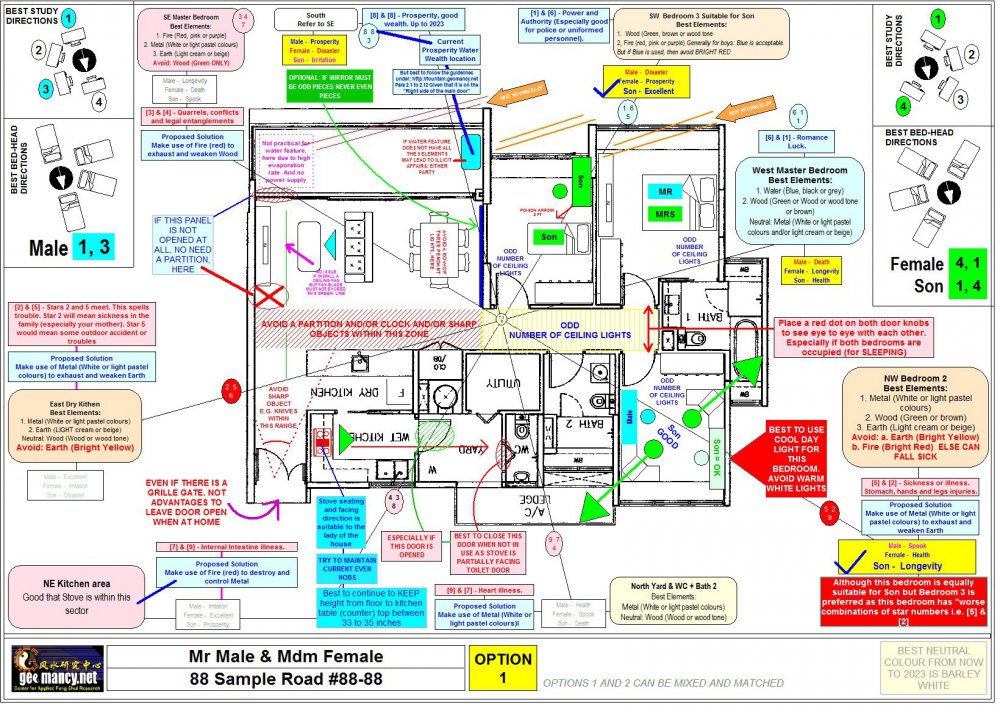 2. This chart uses the following major key concepts:
a. Shapes & Forms
b. Eight House concept: 4 Good & 4 Bad directions.
c. 20 Year Flying Star Feng Shui.
d. Ba Zi Feng Shui
3. We will seat down to discuss the details in this worksheet
This is a Thumb-nail where the above detailed Feng Shui proposal is part of:-
1. This is a Thumb-nail is where the above detailed Feng Shui proposal is part of:-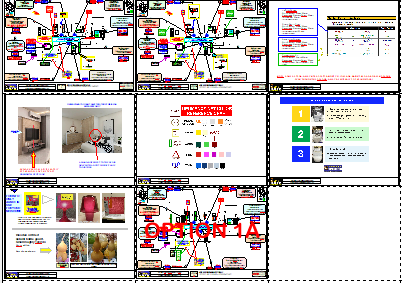 Note: Pixelated for confidentiality
2. Includes Combined Auspicious Dates for First time open door, start of renovations and move-in.
3. Two e-booklets on Feng Shui renovation guidelines.
4. Complimentary Individual Ba Zi reports.
Two Complimentary e-booklets:
You will also be receiving two e-booklets:
e-Book 1: Everything you need to know about Mirrors and Reflective Surfaces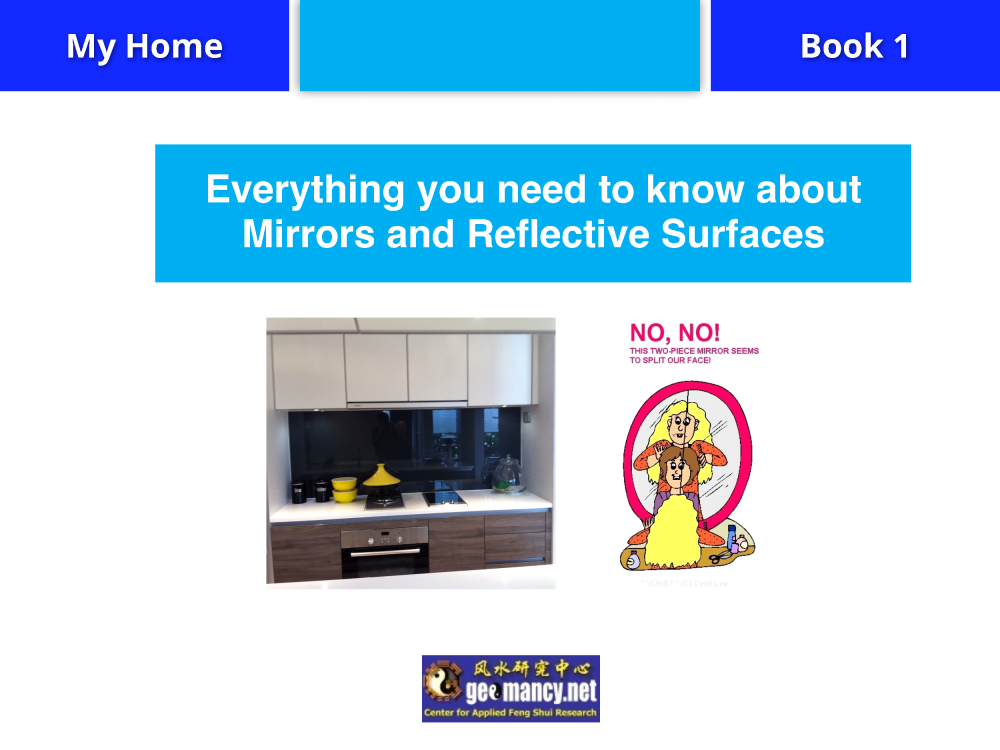 e-Book 2: Home Feng Shui - Make Your Home Right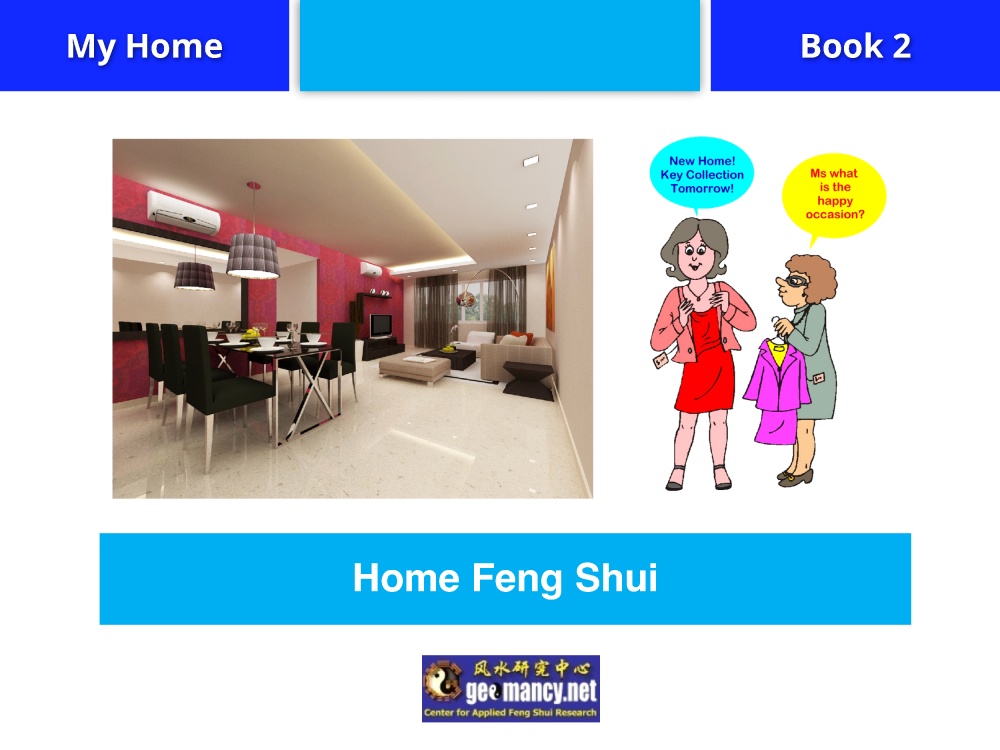 **** Note: Above are Sample Book Covers Only ****
Checklist for HDB Flat
A. New BTO
[1.] Living room / bedroom floors bare or done?
[2.] Any altar (if any)
[3.] Open or closed kitchen concept
[4.] Standard wardrope for the master. Or want to con-joint bigger master bedroom
[5.] Any study room /work for both partners
[6.] Other family members: Bedrooms any preference / more than 1 child [share bedroom / type of bed(s)]
[7.] Piano?
B. Re-Sale BTO (Additional info)
[8.] Lease Commencement Date (Can be checked on-line if you have an account or via Property Agent)
[9.] Any major renovations? Floorings / Re-do Kitchen? / Hacking walls (if any)?
Checklist for EC / Condo Unit / Landed
A. New EC / Condo
[1.] Any altar (if any)
[2.] Any plans to enlarge the master bedroom?
[3.] Any study room /work for both partners
[4.] Other family members: Bedrooms any preference / more than 1 child [share bedroom / type of bed(s)]
[5.] Piano?
B. Re-Sale EC / Condo (Additional info)
[6.] Any major renovations? Floorings / Re-do Kitchen? / Hacking walls (if any)?
C. Landed: Terrace / Semi-D / Bungalow (Additional info)
[7.] Minor Renovations / A & A work / Demolish & Build from Scratch
Frequent Asked Questions (FAQ)
FAQ: When can I request for my Combined Auspicious Dates for TWO (2) on 1st Time Open Door, Start of Renovations and Move-in?
1. Please let me have both partners: Name / Gender / Date & Time of Birth.
2. I will provide you with a link to view these dates.
3. There is also an e-booklet on Non-religious Chinese customs on the above.
FAQ: I am collecting my keys in a few months time. Can I request these dates earlier?
Sure! Go ahead. Let me have the above information. And I can provide you with the auspicious dates.
FAQ: Can I include more than TWO (2) persons?
No. This is because most of the time if there are two or more persons; it is harder and harder to find common auspicious dates. If three persons? Sometimes a year or two later than there is a common auspicious date.
FAQ: Do you provide reports for my Comprehensive Feng Shui?
1. Yes. Please let me have your e-mail address. I will e-mall all the relevant soft-copies.

2. Once your proposals are ready, I will sent you a total of *Five (5) e-mails. Usually a few days before we meet-up.

Sample:




*Note: If payment made earlier; expect only four (4) e-mails.
Are you short-changed by a Geomancer?
Are you short-changed by your Geomancer?
Time Frame
2-3 days (if you require urgently); if not 5-7 days after measurements have been taken.
Master Cecil Lee will fix an appointment with you to be on-site to go through a room-by-room explanation. This is a very detailed briefing and often lasts around 1 to 1.5 hours.
Can we fix an appointment on a Saturday or Sunday?
Yes, we are available on Saturdays and Sundays. We can arrange for an audit done on a Saturday or Sunday or even on a Public Holiday. Let us know your preference!
Do you use religion in your Feng Shui?
Proper Feng Shui is NOT a religion. And NO charms are also used.
Must I buy from You?
No purchase of products whatsoever. Fixed Fee and No-hidden charges.
Does good Feng Shui audits have to be expensive?
No! We feel that good quality audits for your home need not be expensive! And as a consumer, we want to ensure that you do get the best value for your hard earned money.
Your success is our top priority!
Will you let me know the auspicious date and time for start of renovations and moving in?
Yes. This comes standard with our on-site audit. Master Cecil Lee will provide you dates for both the start of renovations and the moving in. If there is any delay in moving in, you can further request him to select new dates for you. Simply call him up!
If you need to check out the auspicious date urgently within the next 30 days. We provided this Free 30-days Auspicious Date for TWO persons for checking out auspicious date for move-in, collection of key etc. For dates beyond the 30-days limit, simply call him up!
My fiancee and I will be getting the keys to our new flat soon and we are looking for some Feng Shui advice. I have read through your residential consultation package on the website and it is indeed quite comprehensive. However, i have still some queries regarding the consultation.
Q: 1) Is there a 'good' time for us to make the first entry to the new house? If yes, is the selection of the date and time included in the package?
Q: 2) Any special practices on our first visit that we should carry out? If yes, is it included in the package?
1. Yes. The package also includes selecting of good auspicious dates. Do let me know both you and your partner's (spouse) date and time of birth i.e. name / gender / date / time of birth. And also which month you are getting your key so that I can prepare the auspicious dates for you to first enter into the new home.
2. If you are taking leave on a specific day to collect your keys, you check with me earlier to arrange for me to go down on the same day, also. The 1st visit is to take the readings and to do a site survey.
2.1. During this visit, please furnish a copy of the layout plan and date/time of birth. And any specific needs e.g. the need for a study/work room and/or an altar (if applicable). On 2nd visit is to meet up with both you and your spouse on-site to discuss on the findings inclusive of going thru all family member's ba zi analysis. On the second visit, I will furnish you a proposed layout plan, which was scanned from your layout plan with specific recommendations of bed position /colours. Ba zi and Feng Shui reports will also be provided as an audit trail.
I have some unanswered questions about your audit?
Feel free to call Master Cecil Lee at HP: (65)9785-3171 (any-time) if you still have unanswered questions
Detailed & Comprehensive Explanation
After the detailed briefing, you will get to safe-keep:-
Detailed recommendations and matters to take note of in future

For new homes the auspicious date(s) for start of renovations and shifting into your new residence in accordance with the direction of the house and life-readings
After-Sales Service
We will continue to provide after-sales services (additional clarification, auspicious dates for moving in etc) to you at no additional costs.
Flexible Payment Methods
We accept payment by PayNow/PayLah, Credit Card, Cheque or Cash payment.
Shop Now
Still have Any Questions?
Call Master Cecil Lee at (65) 9785-3171 for more information or to arrange an appointment. Or e-mail us at This email address is being protected from spambots. You need JavaScript enabled to view it.